| | | |
| --- | --- | --- |
| | About Signalfan | |

Be sure to click on the photos below for closer views!
I've collected traffic signals and road signs for over 20 years. As a kid, I played with lots of made up traffic lights out of paper or cardboard, and I drew roadways with chalk on our front sidewalks, complete with small reproduced signs. It was great to ride the Big Wheel through the different intersections I created. I had always wanted a real signal, but the opportunity never presented itself until about 1983. My first signal was a sea foam green GE 8" signal with full circle visors from the early 1950's. I located it in a dusty corner of an antique mall in old Sacramento, and from that purchase, I was hooked! Below is a picture of my first real signal and shot of the GE logo on the back.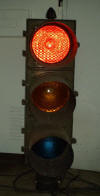 In the next few years, I just started collecting-- one in a dusty corner of an antique store here--one taken down from service at a signal maintenance yard there----and so on. At present, I have about 80 traffic signals and 20 pedestrian signals. Much of my collection reflects the different kinds of signals that were in use all over country. I have an old Eagle 8" that was taken down in Pella, Iowa and was in use when my dad started to drive (this was his hometown). I have a Crouse-Hinds 4-way signal from Atlanta, Georgia that was used on the corner of Industrial and Peachtree streets until 1969 , where it was retired and used as a restaurant piece for the next 15 years. I also have another 4- way that was in use in Springfield, Missouri until 1982. I have one that has "STOP" embossed in the lens (this is a really old one from England). Also have a 3-way flashing beacon from 1936 with "CAUTION" embossed on the yellow lenses, and a AAA stop sign with red flashing beacon from 1933 (my oldest piece).
A few years ago, I was able to rent my services, complete with signals on poles, for several special events. I did a show in San Diego for Ford, and another in Reno Nevada for Chrysler. In these shows I created several "intersections"---complete with realistic operation (I have over 50 different controllers). "Roadway carpet" was installed in the ballroom of the Hilton and I erected 4-10' high signal poles with 2-8" signals and 2-16" Walk-Don't Walk signals each. Next, I connected them to the controller, set them on a 40 sec. cycle and suddenly the ballroom was a busy intersection! Along the carpet many of my different kinds of road signs were placed. It went over really well, and I would like to do more of this in the future.

As for road signs, I presently have over 500 of these signs in my collection. Of these, about 300 have different legends, and 40 or so are old porcelain enamel Auto Club signs. Also, many of my signs are the "cat eye" type with glass or plastic reflector beads or buttons. All are retired old signs, none are "stolen" (many people ask me about this). I get them at antique shows and from my signal maintainer friends. My oldest one is a AAA 1920's directional sign for San Diego. I also have an original route 66 sign complete with cat eye reflectors.

Picture of the San Diego "Route 101" party. This was the main entrance. The freeway ramp meter (left) cycled every 7 seconds (4-red, 3-green). The large signal in back was on a 40 sec. cycle. Even though they aren't pictured, there were 10 other traffic signals scattered about throughout this rather large party space. There were also over 60 road signs here as well! The party for Ford lasted 2 weeks-- it took that long to get through all the dealers they were throwing this party for!

Here is another view at a mockup of "Mission San Juan Capistrano". It shows a few of the many road signs used. There were other areas along US 101 in California depicted as well (Santa Monica, Hollywood, Tijuana, etc.). Pictured with me is my father who, along with my mother, came down to visit.
From 2000-2005, I had an extensive signal garden located in my backyard in California. To view some of the pictures of this, click below.