Electro-Mechanical / Solid State / Econolite / Multisonics / Eagle / Traconex / Other
Econolite Controllers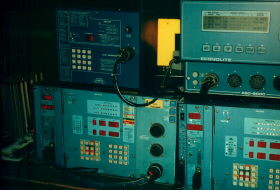 Here is part of the family of Econolite controllers. In addition to the older ones already covered above, these were the most popular ones, and many are still in general use today. Pictured clockwise from top left: N2000 Econolite's popular two phase controller. ASC 8000 a menu driven controller that is still very popular today. And, of course the classic KMC8000, one of Econolite's most popular controllers in use in the decade of the 80s. There are still quite a few of these in use today.




A closer view of the ASC 8000.

ASC 8000 controlling 8 phase intersection in custom portable rack. This is the rack I take out on the special events that I explained in the "About Myself" section. Rack is very portable and uses casters and enclosed I/O panel to customize to any size "intersection".

The most modern of Econolite controllers-the ASC/2s menu driven controller.

This is the EMC4000 controller. It is an early NEMA version with the selectable dip switches with binary timing.

Econolite's VT400 pre-timed controller.

KMC 10,000 master controller.
Here's a great view of the outside and inside of my small Econolite two-phase cabinet with the N-2000 controller. Note the four load switches (2 phase, 2 ped) and conflict monitor.
Fully operational TS1 cabinet of mine utilizing the ASC 8000.

Electro-Mechanical / Solid State / Econolite / Multisonics / Eagle / Traconex / Other
All contents ©1997-2016 by Signalfan. All rights reserved.