Electro-Mechanical / Solid State / Econolite / Multisonics / Eagle / Traconex / Other
Other Controllers

332 CABINET AND 170 CONTROLLER- This is the standard controller and cabinet used by California DOT (Caltrans). It is basically a microcomputer with state written software. Many different kinds of software make this machine useful in different ways. It can be used for ramp metering, sprinkler control, CMS (Changeable Message Signs) as well as traffic signal control. The City of Los Angeles uses this type of cabinet (along with it's little brothers the 336 and 337) almost exclusively, with its own software version. The one drawback I have found with this unit is that the front display uses six numbers as a code for every thing.....it can get a little confusing sometimes!


Pictures showing the front and rear access doors to the rack.

Here is another view of the inside of the 332 cabinet showing the controller unit at the top, followed by the detector amplifier/DC isolator rack under the controller, the power distribution panel which has the main breakers and relays, and finally, the load switches at the bottom. Also, this particular rack has an auxiliary load switch rack at the very bottom that is used for overlap or dogleg intersections that require additional signals and separate timings.
View of the police panel on the side of the cabinet.
Another smaller cabinet called the 337. This one was used in the city of Los Angeles for a 2-4 vehicle phase, 2 pedestrian operation. All timing and coordination records are kept on a special sheet to help with the codes necessary to program.


CUSTOMIZED CABINET-Here is a NEMA Econolite EMC-2000 controller and back panel fitted into an old A-1 electro-mechanical cabinet.

MINNESOTA MICROTRONICS- This cool little controller does it all in one package. It has the triac outputs to power 960watts of power (but 2400w max) to each lamp to control a complete intersection. It also features 2-4 phase operation with 2 pedestrian outputs. The controller can run pre-timed or actuated, can run auto or flash mode, has its own conflict monitor, and even includes inputs for coordination. All of the inputs / outputs (including AC power) are run off of the 36 position terminal block that runs on a 6' harness external to the controller. What a great controller for portable traffic signals! I have two of these and they are my first choice to go out when I operate my signal displays for special events because of their portability.

Other NEMA Controllers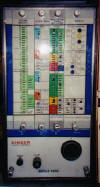 Singer two phase control with pin programming.

Transyt 1800 four phase controller.
Kentron 8800 8 phase controller.

CSC-T1 twelve phase, four overlap controller.

Crouse-Hinds DM-200

Electro-Mechanical / Solid State / Econolite / Multisonics / Eagle / Traconex / Other
All contents ©1997-2016 by Signalfan. All rights reserved.