Electro-Mechanical / Solid State / Econolite / Multisonics / Eagle / Traconex / Other
Solid State Controllers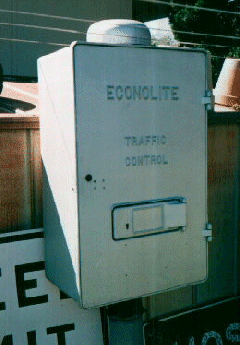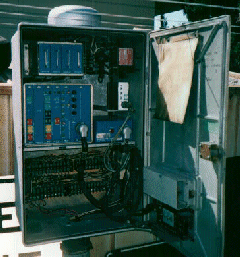 CONTROLLER CABINET CIRCA 1965- These cabinets gained widespread use when the advent of solid state controllers became common. It was a little larger than the electromechanical cabinets because it had to house inductive loop detector amplifiers as well as a conflict monitor to guard against "electronic failures." This particular cabinet also provides a "police door" so that the intersection could be put into a flash condition without opening up the controller cabinet.

This photo shows a closer view of the controller. Note the thumbwheel settings and status indicator lights.

This is the KFT1800, a pre-timed, solid-state controller that was used as an upgrade conversion unit for the type "F"electro-mechanical controller. The unit retrofitted in the existing cabinet and was capable of many more features and reliability than that of it's mechanical brother. Controller uses solid state load switches and flasher. It also can be converted as a semi-actuated or fully actuated 2 phase controller with corresponding pedestrian movements, or a three-phase or even 4 phase controller just by reconfiguring from the front keyboard and adding load switches.

ELECTRO-MATIC 804N- This controller is actually a combination of electro-mechanical and solid state. It uses vacuum tubes and relays to control the signal indications. Timings are controlled by the color coded dials.

And here is a view of a signal status indicator panel. The indicators show a real time display of the intersection. This back panel uses solid state relays for lamp control verses switch packs.
Electro-Mechanical / Solid State / Econolite / Multisonics / Eagle / Traconex / Other
All contents ©1997-2016 by Signalfan. All rights reserved.