Electro-Mechanical / Solid State / Econolite / Multisonics / Eagle / Traconex / Other
Multisonics Control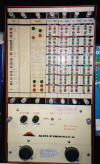 Examples of the early generation of control in California. The 911 controller used "pins" to program the timing intervals. By placing a pin in the different timing multiples (i.e. 1,2,4,8,16,32) on could program the various parameters to the nearest second or tenth of a second. The disadvantage of this type was that after a time the pin contacts would get "oxidized" and throw some timings off!


The other great feature that these controllers had was use of a representative "signal" for each timing ring to show the status of the phase. Pictured here is the eight phase dual ring version.
Here is the newer version of the 911, called the 820. It has a menu driven display and all parameters are keyboard programmable. The special feature of this controller is an actual LCD graphic display of the intersection- complete with cars and crosswalk lines! This controller, along with the newer 820A version of this controller is the most popular kind used here in Southern California.
And here is the OSAM 820A...the ultimate in traffic controllers! Besides the new illuminated graphic display, its menu's are far more flexible and settings are much more customizable than the 820. These controllers are one of the most common in cabinets around Southern California Today.

This is a piece of test equipment used to test the Multisonics or any other manufacturer of controllers. It shows the intersection, complete with all phases used. It also has switches that the operator can use to "simulate" real time conditions. All in a handy compact package!
Electro-Mechanical / Solid State / Econolite / Multisonics / Eagle / Traconex / Other
All contents ©1997-2016 by Signalfan. All rights reserved.